In celebration of Clash of Beasts' Global Launch, we are pleased to announce to you that you can now claim your Launch Week Appreciation Pack from January 11 to January 24, 2022.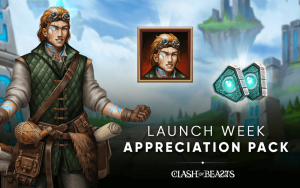 The pack includes the following rewards:
Animated Young Beast Master Avatar
150 Soul Shards
Download the game and claim your free rewards now!
Talking about rewards, don't miss the chance and register to the Newsletter Rewards and visit the website to sign up for a unique avatar and valuable items!