Band together towards the common goal of mutual defense and conquest! Version 6.6 is here to welcome Clan Quests, Clan Leaderboards, and the new beast, Jadril. Read the patch notes below.

Clan Quests and Leaderboards
Work together with members of your Clan, engaging in a diverse range of challenges at your disposal. Complete Clan Quests to accumulate points which contribute to your Clan Quest rewards progress and elevate your ranking in the Clan Leaderboards.
Mechanics:
Each clan member will be able to take a maximum of two quests at a time. Canceling a Clan Quest pushes it back into the list of those available for the other clan members to take. Cancelling a clan quest from your own list starts a cooldown for the quest slot, which expires after some time, allowing you to pick another quest.
In the event of inactivity, Clan Leaders and Officers can remove players from their current Clan Quests, making those quests available to other clan members.
Clan Quest is only available to players who joined a clan before the quest cycle starts. If a player joins after a cycle has started, they will be able to take a Clan Quest the following week. Cycles last for 7 days, and after that, all untaken quests will be replaced with new ones.
The more points you collect from finishing Clan Quests, the more rewards the clan will receive. The Clan Quest rewards bar resets after every cycle, distributing rewards to eligible clan members for their hard work!
Clan ranking in the Leaderboards is determined by the total points accumulated by members from completing Clan Quests. Additional sources of clan points will be available in future updates.
New Featured Beast: Jadril
Chosen by the god, Gaia, to execute her will on those who would seek to destroy the natural lands of Veren, Jadril has arrived to give his aid! His spells include:
Destructive Chainfire – Jadril's primary attack which fires a beam that leaps between multiple targets with a 30% chance to trap them in emerald shards, reducing their attack speed by 40%.
Emerald Shockwave – Jadril releases a powerful shockwave which has a 40% chance to apply fragility on targets – increasing their received damage by 60% for 5 seconds. It also shatters the emerald shards that are trapping the towers, dealing massive damage, and releasing them from the shards.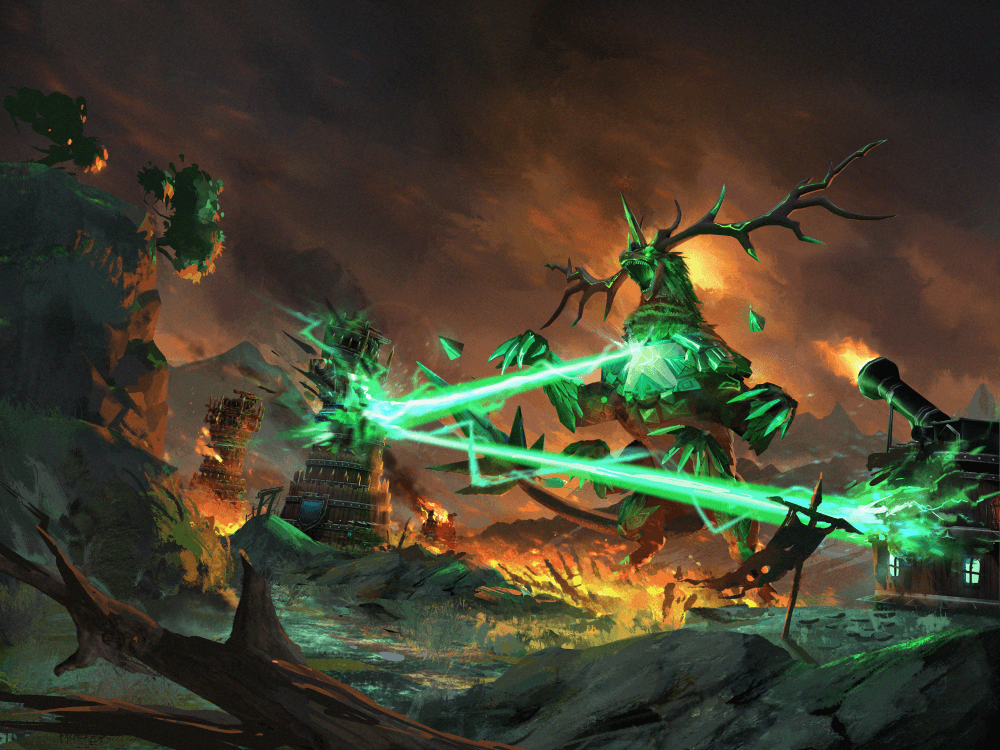 Daily Login Additional Months
More months have been added to the Daily Login feature. Log in daily to collect rewards with a beast waiting for you every 30 days!
Add Build Workshop Requirement to Early Research
We added a requirement to have the Workshop built before researching Mercenaries' Creed and Trade Route. This ensures that new players will have a Workshop up and running, with Supplies available for them.

The following issues were fixed in this update:
Issue where the notification icon is missing on the Clan Vault
Issue with Wortan's spell, Garuda's Gift, where it is not resetting the cooldown of allies'
Issue with a beast not prioritizing attack on a Horn Tower while the tower is taunting
Issue with the stacking leech status effect icon
Issue where the rarity border of random items is changing upon switching between General Store and Fragment Trader tabs
Issue where the 'Confirm' button when applying tower modification could be seen near the screen edge
Issue where a beast's legs and wings can be seen overlapping the summon pedestal on the summary screen
Issue where the beast stats in the Bestiary is cut off on iOS devices